.
Biographical Sketch
Member of Parliament
13th Lok Sabha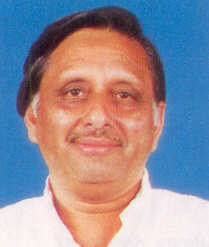 SHRI MANI SHANKAR AIYAR
[INDIAN NATIONAL CONGRESS - MAYILADUTURAI (TAMIL NADU)]
---
Father's Name Late Shri V. Sankar Aiyar
Mother's Name Late Smt. Bhagyalakshmi Sankar Aiyar
Date of Birth 10 April 1941
Place of Birth Lahore (now in Pakistan)
Marital Status Married
Date of Marriage 14 January 1973
Spouse's Name Smt. Suneet Mani Aiyar
No. of Daughters Three
Educational B.A. (Hons.), M.A. (Economics)
Qualifications Educated at the Doon School, Dehradun, St. Stephen's College, University of
Delhi (Delhi) and Trinity Hall, Cambridge University (U.K.)
Profession Writer
Permanent Address 12, Avaiyambalpuram, Mayiladuturai-609 001
Present Address 523, Sainik Farms, Western Avenue, Lane W-23, New Delhi-110 062
Tel. (011) 6866096 Fax. (011) 3017047
E.Mail (i) aiyar@satyam.net.in (ii) msaiyar@hotmail.com
Positions Held
1991 Elected to 10th Lok Sabha
1991-92 Member, Committee on Environment and Forests
1992 Elected to All India Congress Committee (AICC)
1992-96 Member, Committee on Human Resource Development;
Member, Committee on External Affairs
1998 Secretary, All India Congress Committee
1999 Elected to 13th Lok Sabha (2nd term)
1999-2000 Member, Committee on Urban and Rural Development
Books Published
(i) "Remembering Rajiv", Rupa, New Delhi : 1992; (ii) "One Year in Parliament", Konark, New Delhi : 1993;
(iii) "Pakistan Papers", UBSPD, New Delhi : 1995; (iv) "Rajiv Gandhi's India", 4 vols.
(General Editor), UBSPD, New Delhi : 1997
Literary, Artistic and Scientific Accomplishments
Eminent columnist and contributor to various newspapers and periodicals, in India and abroad
Favourite Pastime and Recreation Reading, writing and music
Sports and Clubs Member, Delhi Gymkhana Club and India International Centre, New Delhi
Countries Visited Widely travelled, went on several delegations abroad while in the Indian Foreign Service
Other Information
Founder President, Society for Secularism; Member, Indian Foreign Service, 1963-89; Consul-General,
Karachi, 1978-82; Joint Secretary, Ministry of External Affairs, 1982-83; Special Assistant to former
Congress (I) President, Late Shri Rajiv Gandhi, 1989-91; Trustee, Rajiv Gandhi Foundation;
Member, Governing Council, Rajiv Gandhi Institute of Contemporary Studies; Member, Court, Visvabharati,
1991-96; Member, Court, Aligarh Muslim University, 1991-96; Member, Court, Pondicherry University,
1995-96; Member, Court, Jawaharlal Nehru University, 1999-2000
---
Election Result of Mayiladuturai Lok Sabha Constituency
Total electorate 10,30,626
Total votes polled 6,55,586
Poll percentage 63.61%
Valid votes 6,45,796
Votes polled in favour of the first four leading candidates:
(1) Shri Mani Shankar Aiyar (I.N.C.) 3,24,384 50.23%
(2) Shri P.D. Arul Mozhi (P.M.K.) 2,84,253 44.02%
(3) Shri K. Krishnamoorthy [T.M.C.(M)] 34,998 5.42%
(4) Shri S. Balasundaram [C.P.I.(ML)(L)] 2,161 0.33%


© Copyright Mayiladuthurai.net 2002 - 2003. Site designed and owned by ArunMagesh & Subiksha.
All rights reserved. Disclaimer
Site optimized for Internet Explorer 4.0 and above. Netscape not recommended.