.
Parimala Renganathar Temple, Thiruvizhandhur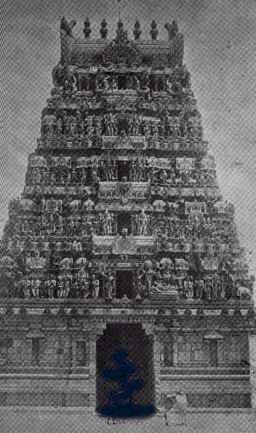 Vishnu: Parimala Ranganathar
Taayaar: Parimala Ranganayaki
Theertham:Indu Pushkarini
Paasuram :Tirumangaialwar
Vimaanam:Vedachakra Vimanam
DescriptionThis Divya Desam is a beautiful temple at Indaloor a part of Mayiladuturai, known for its famous Shivastalam enshrining Mayuranathar. This is considered to be one of the Pancharangams, the other four being Srirangapatnam (Karnataka), Srirangam, Koyiladi (Anbil) and Kumbhakonam (along the course of the river Kaveri).
Deities: The Moolavar here is Parimala Ranganathar also known as Maruviniya Maindan - an imposing 12 feet long image made of green stone. , and Sugandhavana Nathan, in a reclining posture facing east. Taayaar here is Parimala Ranganayaki or Chandrasaapa Vimochanavalli or Pudareekavalli. Images of Kaveri and Ganga are seen seated in the sanctum, as is an image of Santana Gopalakrishnan. Bhrama is seen depicted on the wall. There are slso shrines to Yoga Narasimhar , Rama, Anjaneya, Suryan and Chandra.
This temple with tree prakarams has a 5 tiered rajagopuram and it faces east. The Dwajastampa mandapam and the Garuda Mandapam have beautifully sculptured pillars. The Garuda mandapam bears images of the 10 avatarams. It is believed that the offering worship to Santana Gopalan in the sanctum, would aid barren couples in begetting progeny.
Legends: Legend has it that the demons Madhu and Kaitabha stole the Vedas, and disappeared into the sea; Vishnu came down in the form of Matsya avataram and restored the vedas, and restored their fragrance, hence the name Sugandharanyam, and Parimala Ranganathar and Parimala Ranganayaki. Legend also has it that Chandra (the moon) was cured of an affliction after bathing in the Kaveri and offering worship here.
Festivals: Six worship services are offered each day in the Pancharatra agama protocol. As with the Mayiladuturai Shivastalam, the entire month of Libra is one of festivites centered around the river Kaveri when festival image is taken every day in procession to the river Kaveri.

---
Thirupariyalur Veerattam
Location: Parasalur near Mayiladuturai, Semponaar Koyil
(Chola Naadu-South of Kaveri)
Shiva: Veeratteswarar
Ambal: Ilankombanaiyaal, Balambika
Theertham: Homa Kundam
Patikam : Sambandar
Description: This Shivastalam is one of the 8 Veerattastalams of Shiva, also known as Dakshapuram located 8 km east of Mayiladuturai. The Yaga Samhara moorthy image is a specimen of the craftmanship of the ancient Tamils.
Legends: This temple is associated with the story of Dakshan's yagnam, where Dakshan and his ego were vanquished. The temple tank is believed to be the sacrificial altar of Daksha, and during times of drought,the actual altar is said to become visible at the bottom. The Devas are believed to have gotten rid of their fear caused by the demon Dharuka here.
The Temple: This is a small temple with a single prakaram. Inscriptions from the priod of Jatavarman Sundara Pandya and Krishnadevaraya are found here.
---

Other temples information will be added soon....

© Copyright Mayiladuthurai.net 2002 - 2003. Site designed and owned by ArunMagesh & Subiksha.
All rights reserved. Disclaimer
Site optimized for Internet Explorer 4.0 and above. Netscape not recommended.